ISSA Conference India – A Great Success A Hub for Cleaning and Facility Management Professionals
Informa Markets India, India's leading B2B event organisers and ISSA, the world wide Cleaning Association successfully organized the first in-person ISSA Conference India on October 21 and 22 at Hotel Lalit, Mumbai.
The two-day conference was as timely as it was relevant, considering the battle we are engaged with at the moment with the pandemic and brought together industry leaders and professionals on a common networking platform to share knowledge, innovations, developments, solutions & experiences in the cleaning, hygiene and facilities segment. The event was designed to provide the commercial, institutional and industrial stakeholders with lessons learned and best practices in cleaning, readiness and resilience as well as leadership in times of crisis.
A professional cleaning service requires in-depth knowledge of products, procedures, techniques and operations management and a continuous update on skills.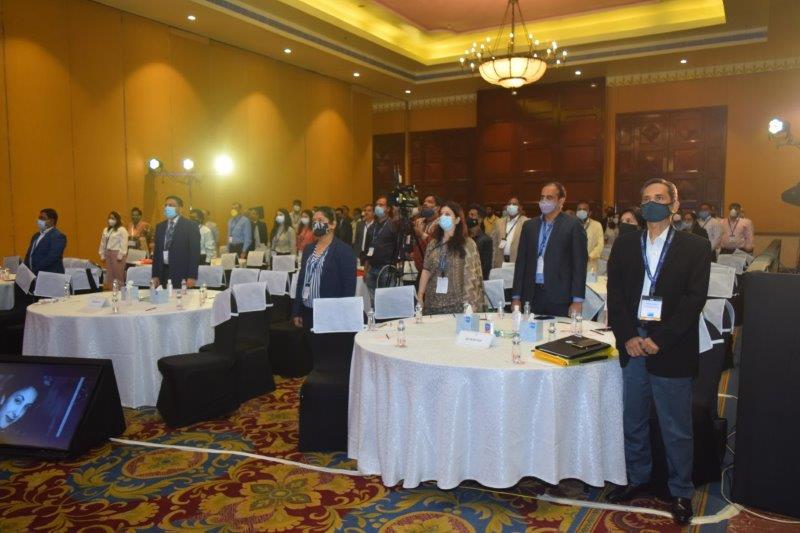 Speaking at the inaugural function, Keynote Speaker Prof Dr Neharika Vohra, Vice Chancellor, Delhi Skill and Entrepreneurship University, Govt of NCT of Delhi commented that the Cleaning and Facility management industry need to attract good talent if this industry has to occupy centerstage. For this, we need to make enough investments in the training and development of personnel, besides providing them decent salaries and other amenities and perks. The right ecosystem would make employees here feel proud of their profession. She drew a parallel with the BPO Industry which had invested in their personnel in terms of salary, training, cafeteria services etc, all of which attracted the youth to the industry and it became a profession of choice rather than chance.
Anand Ghodke, Waste, Sanitation and Health (WASH) Officer, UNICEF India, speaking at the event said the government can create opportunities while the private sector can sustain it. There were several areas to harness the private sector potential in solutions and services, and we need to focus our efforts in terms of WASH in health care facilities, schools and day care centres, workplaces and commercial buildings, refugee, migrant and other camp-like settings, prisons, markets and food establishments, transport hubs, places of worship, public spaces, home and public facilities. Globally 3 billion people, 40 per cent of the world's population do not have a place in their homes to wash their hands with water and soap and hence there was huge potential and opportunity to fill this gap.
The conference saw a galaxy of domestic and international speakers from the cleaning and facilities management segment share their knowledge and insights on latest technological innovations and best practices in cleaning, sanitation and facility management. Sustainability in products and operations should be the centrepiece in order for the industry to be relevant and significant, emphasized experts. The event being hybrid allowed for participants to join in-person as well as online.
Key Sessions were:
Return to Work – Health, Hygiene and Safety
Leveraging the New Normal to Accelerate Behavioral Change
The Science Behind Cleaning & Disinfecting,
Integrating Infection Prevention into Routine Cleaning: Learnings from Covid Pandemic
The Next Big Need in India's Facility Management World
Leveraging the Merger of Building Automation & Service IoT in Facilities
Manage What You Measure: Developing a Top Quality Assurance Program
Making the Business Case for Investing In Cleaning & Hygiene.
Eminent speakers included:
John Barrett, Executive Director, ISSA, Anand Ghodke, WASH Officer, UNICEF India, Prof (Dr) Neharika Vohra, Vice Chancellor, Delhi Skill and Entrepreneurship University, Govt of NCT of Delhi, Peter Ankerstjerne, Chairman of the Global Board of Directors at IFMA, Benjamin Alexander, Director Sales, Schevaran Laboratories Pvt Ltd, Sujoy Majumdar, Global Workplace Solutions, Lead-India Pfizer, Sankar Sreedharan, Strategy & Program Lead, Sodexo Healthcare India, Ravi Valecha, Head Administration at IL&FS Ltd, Shakti Jalali, VP Business Development, ISS Facility Services India, Rob Mayo, Director of Human Design, coLab, New Zealand, Alok Jain, CEO & MD, Trans-Consult Ltd, Professor King Lun Yeung, Professor, Department of Chemical and Biological Engineering & Division of Environment and Sustainability, the Hong Kong University of Science and Technology, Kiran Rao, Director - Building Care, Diversey, Gaurav Dubey, General Manager -South Asia, Kimberly -Clark Hygiene Products Private Ltd, Aashish Kasad, Senior Partner at EY India and the National Leader for the Chemicals and Agri sector, Patty Olinger, GBAC Executive Director, Amruta Kulkarni, Assistant Executive Housekeeper, Sir HN Reliance Foundation Hospital, Rajesh Pandit, MD, CBRE India, South East Asia, Middle East and North Africa, Dr. Ananya Gandotra, Head – Design & Sustainability, Birla Estates, Saji Sebastian, Vice President Corporate Services, Network 18 Media and Investments Limited, Wilson Selvaraj, Business Head – Industry and Manufacturing, and Healthcare segments, ISS Facility Services India, Aalok A. Deshmukh, Co-founder and MD, Superhuman Race Pvt Ltd, Mahantesh C Mali, Head Central Operations and Engineering Support, Nucleus Office Parks, Blackstone Portfolio Company, Dushyant Ahuja, Vice President- Asset & Facility Management, Tata Realty & Infrastructure Ltd, Amal Jaiswal, Head of Digital Buildings, Siemens Smart Infrastructure, Brant Insero, Director of Education Training, Certification & Standards, ISSA.
Customer satisfaction, loyalty and safety remain challenges for hotels, restaurants, large retailers, public businesses where there is an increasing demand for professional cleaning.
As India moves to improve its environmental sanitation, prerequisites to focus on include implementation of low-cost sanitation systems, greater household involvement, range of technology choices, awareness building, involvement of NGOs and local groups, human resource development, appropriate forms of private participation and public- private partnerships, sound sector policy, political commitment among others to usher in the change. The ISSA Conference India was a step in this direction.