Efficient HVAC Management For Schools With Mitsubishi Electric's Building Connect+
This year has brought new challenges to facility managers operating K-12 schools and higher-ed facilities. Whether students are attending class in-person, virtually or a hybrid of both, building staff are relying on mechanical systems that prioritize both cost savings and energy efficiency.

Flexible systems like CITY MULTI® Variable Refrigerant Flow (VRF) technology offer zone control, precise energy use and heat recovery, ideal for the heating and cooling needs of school applications.

How does VRF work?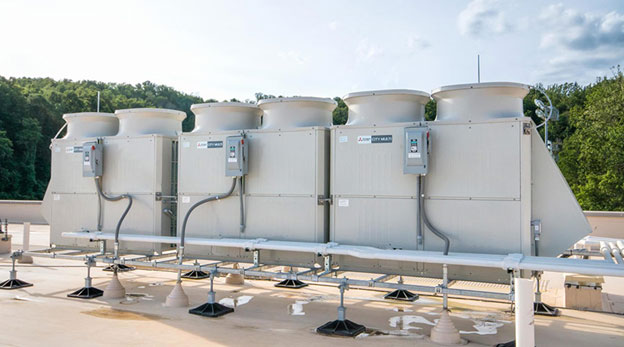 VRF technology consolidates heating and cooling into one, all-electric system. An INVERTER-driven compressor runs the system, cycling refrigerant and transferring heat between its outdoor unit and the indoor unit(s) in each zone. Think of zones as the different areas of use within a school such as the cafeteria, classrooms and library. Continuous communication between the system's outdoor units, indoor units, sensors and controls allow VRF systems to modulate capacity based on loads and occupancy. With precise management of capacity, VRF systems reliably and cost-effectively maintain each zone's set point without the noisy and energy-intensive start/stop cycles of conventional systems.

Effective HVAC management

As facility managers know, installing the right heating and cooling equipment is only one part of managing comfort and building operations. Selecting a comprehensive controls platform is essential and allows for efficient HVAC management and integration of third-party systems such as ventilation and auxiliary heat. Given the sophistication and interconnectivity of VRF components, facility managers gain access to the most system points and obtain peak performance when they use manufacturer-provided controls to manage a VRF system. Facility managers can monitor multiple zones across multiple buildings, set operating schedules and adjust equipment remotely.

One such VRF controls platform is Mitsubishi Electric's latest innovation, Building Connect+ which offers a wealth of benefits that optimize HVAC management for light to medium commercial buildings.

What is Building Connect+ (BCP)?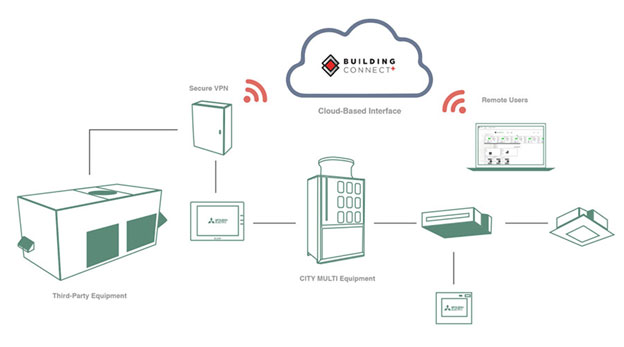 Building Connect+ is a simple and secure, cloud-based controls platform for managing CITY MULTI VRF systems, third-party BACnet® devices and hardwired equipment from one convenient interface.

Using an on-site panel, the platform connects the central controller and third-party equipment to the internet. The panel can auto-discover and seamlessly connect up to 50 CITY MULTI VRF indoor units, 5 BACnet devices and 8 hardwired devices using digital input/output, with configuration done through a simple web portal. This streamlined system makes it easy for building management to monitor and control their building. This innovation is an ideal, mid-level solution for facility managers who need more than a centralized controller but less than a full building automation system to run their facilities.

How does Building Connect+ help save costs?
Well-suited for applications such as schools, offices and multifamily buildings, the platform reduces initial installation and pairing costs, while reducing commissioning time through the use of a web-based portal. Building Connect+ requires less programming and additional licenses than other platforms for controlling multiple units and devices.

As for operational savings and month-to-month utility costs, Building Connect+ utilizes auto changeover, a feature that automatically transitions a building's heat pump compressors between heating and cooling modes based on the needs of the space. The platform regularly scans each indoor unit and calculates its demand based on the difference between space temperature and set point. With schools having varied occupancy, this mode of operation (in addition to an extensive scheduling feature) reduces energy waste and promotes energy efficiency, translating to cost savings.