Impact of Electric Vehicle Ecosystem on Bengaluru's Real Estate
In January 2021, Tesla entered the Indian market by registering its maiden office in Bengaluru. Their move veered the discussion towards electric vehicle (EV) usage in the country, with Karnataka in focus as India's first state to roll out an EV policy. In addition, the Deputy Chief Minister recently announced that regulations are in the pipeline that would mandate EV charging infrastructure as a part of high-rise buildings, metro stations, malls, IT parks, apartments etc. But, is the city ready for this change?
Bengaluru's transport infrastructure readiness
The exponential population growth of Bengaluru owing to the IT sector boom, compelled the government to tightly manage the burdened infrastructure. Recently, some of the prominent submarkets like the Outer Ring Road, Whitefield and Hebbal have gained popularity due to various existing and upcoming projects like ring radial roads, express corridors, flyovers, and metro rail lines. However, the city has a few miles to go before it is completely ready to support extensive EV usage.
Some improvements that must be implemented include:
Street and junction designs to delay the process of excessive wear and tear because of running at an over-capacity during peak hours
Timely attention to the maintenance of road surfaces damaged by rainfall
Planned street hierarchy to ensure safety in terms of speed limits and to avoid bottlenecks
Strategic signage placement and consistent street lighting across the city to ensure clear vision and unhindered navigation
Provision of safe EV charging facilities paired with accessible parking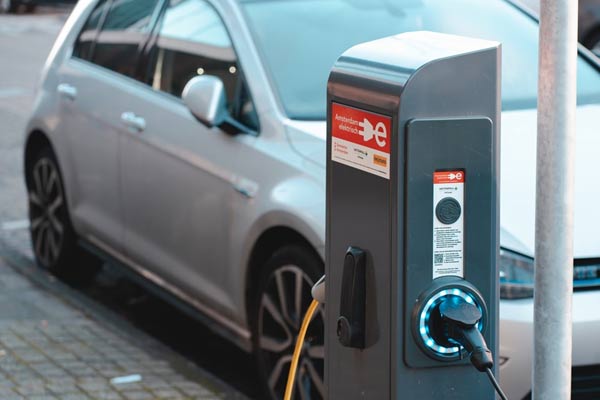 EV usage and Real Estate
Providing that these improvements to the city's transport infrastructure will enable EVs to function smoothly and ensure user adaptability, the following real estate sectors should be most impacted by the development of EV ecosystem:
Offices
Developers can expect a shift in tenant mix in submarkets where EV players have already entered and set up headquarters. This is due to the agglomeration effect where competitors move in closer to attract talent and customers alike. In Bengaluru's case, demand might be revived in the CBD, where car showrooms are in abundance.
Business park master planners might need to work in tandem with transport planners to reimagine parking and driveway designs. New and improved facilities will become a part of mandated building by-laws, including charging pods with standard and rapid-charging ports. Business parks can also include EVs (autonomous or otherwise) as a part of their internal transit system.
Facility management, common area maintenance will also become expensive.
Residential
The ongoing pandemic has brought back attention to health and wellness. Since many are sceptical of using public transport, EV may take over as a sustainable alternative, especially when even the fuel prices are soaring unchecked. These factors are bound to push residents to opt for EVs.
While greenfield developers can incorporate new EV supporting building by-laws, brownfield developers and maintenance bodies will have to rethink their strategies.
Retail
Like offices and apartments, designs of malls are expected to change as per the mandate. Based on their retail mix and target customers (affordable/mid-segment/high-end or luxury), malls can have a different strategy of incorporating EV regulations (such as the number of EV parking spaces to optimise costs).
Recently, some delivery platforms like Flipkart have signed up pacts to increase EV use in their last-mile connectivity. Mall developers need to incorporate this requirement, since outlets with e-commerce platforms will need facilities to exist within premises.
Conclusion
While the EV ecosystem is at a nascent stage in the country, it is never too early to think about the possible changes it can bring about to the real estate sector and how the stakeholders can ensure readiness and adaptability. Several international and local automobile companies like Ford, Volkswagen, Tata Motors, Mahindra & Mahindra already envision India as an emerging EV hub. Select firms, like Jaguar, even claim to go completely electric by the end of this decade. Ultimately, part of the onus is on the real estate sector to enable these visions to become a reality.
Source: https://www.jll.co.in/en/trends-and-insights/research/impact-of-electric-vehicle-ecosystem-on-bengaluru-real-estate