Comply with COVID-19 safety needs with wellness kiosk and digital signs
As businesses around the country reopen amid the ongoing pandemic, LG Business Solutions USA has expanded its suite of Health Protocol Solutions, introducing new digital signage packages that give businesses eye-catching platforms to provide information, guidance, wayfinding and interactive experiences. Digital signage display provider LG partnered with other technology providers to offer an array of new options including wellness kiosks, occupancy management systems, portable battery-operated solutions, and even contactless interactive digital signage displays.
Wellness kiosk solutions

The new Wellness Stations are an ideal solution to provide information, health equipment and peace of mind to customers, staff or visitors in any type of physical environment. The upright, rectangular system includes a thermal scanner for temperature readings integrated with a 22- or 32-inch LG digital webOS Signage display for displaying health information.

The system has a motion-activated hand sanitizer dispenser along with slots to hold boxes of gloves or masks. It even tracks how many people are using the hand sanitizer. As a compact, all-in-one solution, no additional components are required.
Occupancy management solutions

Many retail stores and public venues have begun tracking real-time occupancy to abide by local and internal policies. The new Occupancy Management Solutions integrating LG displays can reduce staff workload by automatically tracking when customers enter and exit while providing guidance to incoming customers. This eliminates the need to place employees in close proximity to customers at each entrance. At the heart of the occupancy systems are 49- and 55-inch LG displays married with a separate media player that helps manage inflow by updating arriving customers to wait times or current store occupancy.

For high-traffic restrooms in transit centers or public venues, a new SmartRestroom solution informs users of the bathroom's current occupancy and cleaning status. The system uses external sensors and LG's webOS Signage platform to automatically detect and relay occupancy information to custodians through a push-alert when a cleaning is required, based on usage. The system is built around a 32-inch LG display that mounts outside the bathroom entrance.
Health protocol / compliance signage solutions

Property managers and owners of retail stores, hospitality venues, schools and colleges, along with other commercial and institutional facilities, are dealing with ever-changing local regulations and corporate policies, experimenting with new layouts, and doing their best to make customers and visitors feel safe and informed. During this time, ubiquitous digital signage is crucial to clearly communicate rules and limit staff interaction with customers, whether it's located in the outer windows, in an aisle, next to a product display, at a register or anywhere else.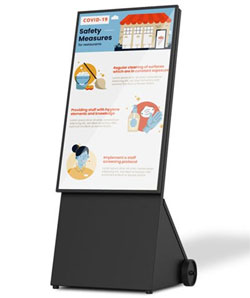 To provide ultimate flexibility and convenience, the Portable A-Frame Display Solution combines a 32-inch webOS Signage display, an optional on-board battery and either a folding base or a rolling base to allow relocation at a moment's notice. The LG display is mounted vertically to match the width of the base and allow un-intrusive placement in foot traffic zones.

For bigger needs, LG has launched a series of standard and high-brightness solutions that are available in 49-inch and 55-inch display sizes, complete with a Peerless-AV SmartMount Flat Panel Cart for simple and flexible placement.