'The core of FM service can extend to include sophisticated requirements spanning Integrated Facilities Management, specialised engineering services and soft services'
We spoke to Rahul Lal, FRICS and Member, Central Working Committee, Global Association for Corporate Services (GACS) to understand his assessmentabout the current Facilities Management scenario in India and how it compares to global standards, key challenges related to implementing Facilities Management solutions within a large organisation in India, some of the new products and technologies that are revolutionising the Facilities Management space and his plans to further improve Facilities Management within his organisation.
Interviewed by Adeesh Sharma
Question : What is your assessment about the current Facilities Management scenario in India? How does it compare to global standards?
Answer : In comparison with the global industry, India FM lags in areas such as market maturity, adoption of cutting edge technology, and appreciation of high standards of service delivery. There is a strong case to be made for raising awareness about the benefits of quality FM services. In terms of business continuity, operations cost rationalisation, long term real estate asset value optimisation, and green standard compliance. The dearth of skilled and non-technical manpower and the lack of infrastructure to train manpower are the other key challenges.
Question : What are the key challenges related to implementing Facilities Management solutions within a large organisation in India?
Answer : The biggest challenge faced by the industry is to increase the scope of FM services beyond traditional housekeeping services. Building management inarguably the core of FM service which can also extend to sophisticated requirements spanning Integrated Facilities Management, specialised engineering services and soft services. Today the adaptability of these solutions are very low as it is compared with cost effectiveness rather than as a service effective ness.
Question : Please tell us about some of the new products and technologies that are revolutionising the Facilities Management space.
Answer : The way technology is changing every day and methods of managing the data remotely is key to manage the facility and I feel Facility optimisation with Machine learning by innovative tech and software platforms which focuses on enhanced asset performance, connected with buildings can play an important role . It can not only generate datasets for buildings, but also shall unlock the insights into market trends, building performance optimisations etc.
Question : What are your plans to further improve Facilities Management within your organisation?
Answer : There are many improvement areas in the FM which can bring a lot of changes in the organisation improvement planning be it the business continuity plan, cost optimisation or building maintenance. One of the strategies which we plan to implement after experiencing the current pandemic is contingency planning and how to avoid supply chain disruptions during the crisis.
Thermal Imaging: Identifying The Best Use Cases In A Smart Building
By Dayann Charles Jeyamohan and Susan Clarke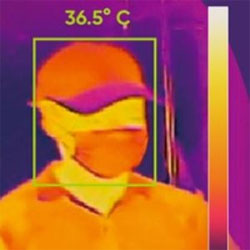 Thermal imaging technologies are gaining increasing visibility in the facilities management sector as firms explore new initiatives to ready workplaces for reopening. Facility managers are exploring whether thermal imaging – which measures a person's temperature based on infrared radiation – can help them screen out infected people before they enter a workplace. This article explores the pros and cons of this technology and the best use cases in buildings.

Thermal Cameras Are Moving From Airports To Workplaces
Before COVID-19, fever screening cameras were confined to airports in East Asia. Today the technology is rapidly expanding across Europe and US. Warehouses and factories have been a focal point for deployments. Amazon is leveraging thermal cameras to check staff temperature before they enter warehouses in the US and UK. General Motors is rolling out thermal cameras across 72 sites in North America. Jaguar Land Rover has implemented 20 thermal cameras at its Solihull factory in the UK.

Deployments are also taking place in offices. Banking firm ANZ recently installed thermal cameras at its global headquarters in Melbourne, which will sound an alarm if someone has an elevated temperate. Medical technology firm Dräger has implemented a thermal camera at the entrance of its HQ in Germany. In the UK, RBS announced that thermal imaging and temperature checks at building entrances will form part of its workplace reopening strategy alongside one-way corridors and limits on building capacity.

Whether firms can implement thermal cameras is a matter of local privacy laws. For example, regulators in Spain, UK and the US are currently permitting temperature checks given the public health threat of COVID-19. China's State Council is actively encouraging firms to deploy temperature checks for all attendees at the workplace and register details of visitors. However, in mainland Europe, regulators in France and the Netherlands still prohibit the measure.

A Flurry Of Product Launches Is Bringing Thermal Imaging Into The Mainstream
Thermal imaging technology is becoming increasingly available following a recent slew of product launches. Honeywell released the 'ThermoRebellion' proposition which brings together thermal imaging cameras with artificial intelligence to identify fever across building entrants. Mitie Security launched a thermal imaging service aimed at frontline organizations, such as hospitals, and businesses reopening their workplaces. Vodafone has partnered with surveillance firm Digital Barriers to launch a heat detection camera, which can check the temperature of 100 people per minute.

Building Managers Need To Be Aware Of The Limitations
Thermal cameras enable firms to rapidly check the temperature of staff or visitors as they enter a building without contact. They are suitable for workplaces with high footfalls; for example, Remark Holdings offers thermal cameras that can scan more than 120 people per minute.
Firms investing in this technology need to be aware of some of the limitations. Notably, the technology is not able to identify the majority of COVID-19 infections, as many carriers will not show symptoms. For example, the London School of Hygiene & Tropical Medicine finds that temperature scanners at airports are only useful in identifying one in five COVID-19 cases as most people are infected with the virus for over five days before showing a fever.
But there is no easy panacea for identifying infected people in the workplace. According to the WHO, 80% of infections are mild or asymptomatic resulting in many silent carriers. While diagnostic testing through a nasal and throat swab can accurately determine if a person has the virus, it is currently impractical to deploy this type of testing across workplaces. The main barriers are that these tests are in short supply and result often take over a day to generate. That said, accountancy firm BDO is considering COVID-19 testing for all of its 5,500 UK-based staff every two weeks in the future.

Three Value-Adding Use Cases

1. Headquarters
Most firms will want to test the effectiveness of thermal screening solutions and employees' response before rolling out at scale. Facility managers should look to leverage their HQ to test the technology as site-level budgets are often bigger enabling experimentation and pilot projects. Firms should softly introduce the technology to staff by making it optional. For example, UK, the broadcasting firm the BBC is offering voluntary temperature checks to employees at its White City office and is considering making the practice mandatory in the future.

2. Hospitals
Another use case for thermal scanning technology is checking visitors' temperature in hospitals. Ninewells Hospital in Dundee has already announced it will deploy thermal cameras to scan outpatients as part of its efforts to stop COVID-19 spreading. It is currently trialling two versions of the technology at its main entrance; a walk-through body scanner and a camera which measures temperature from the skin on the face. Luther King Jr. Community Hospital in Los Angeles implemented a thermal camera after struggling to quickly screen staff with conventional thermometers during busy shift changes.

3. Retail
Another use case for thermal scanning solutions are retail shops. They get a high volume of visitors, and it is often not feasible for shops to deploy temperature guns on customers. Retailers globally have already started the rollout. In Atlanta, grocery retailer City Farmers Market is deploying thermal cameras at entrances to identify customers with a possible fever. In Bangkok, the Central World shopping centre is using thermal imaging robots to scan customer temperatures, aiding the process of a safe return to operation. Retailers will likely need to direct customers to walk past the systems slowly as most cameras require 30 seconds to two minutes of scanning time to gain an accurate reading.
Key Takeaway
Thermal cameras are a useful way of catching some COVID-19 infections, but they will not capture them all. We recommend businesses to closely track the success of thermal camera implementations within their sector and run their own trials as workplaces start to reopen.