Office Occupiers Believe that a Business Recovery is Underway in India
Over the past few months, Indian cities have succeeded in containing the pandemic and relaxed social restrictions to a certain degree - with a significant improvement felt in business sentiment as well. About 88% of our survey respondents believe business conditions are currently improving in the country, marking substantial progress from a similar survey CBRE conducted post the first wave in 2020. Moreover, sentiments regarding this improvement are slightly stronger in India as compared to other countries in APAC where 71% of respondents highlighted the same. It is to be noted that none of the respondents chose 'contracting' as an option to describe their current business conditions in India. The rapid increase in vaccination rates and the reopening of offices across cities has started to strengthen corporate confidence. However, the unpredictability of infection rates, new variants (such as Omicron) and yet-to-come approvals for the booster shot may continue to weigh on the pace of this recovery in the foreseeable future.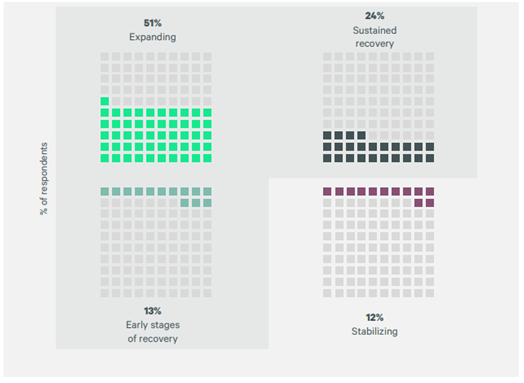 Office utilization rates are linked to infection spikes
Several cities in India introduced restrictions on office capacity during the second wave, all of which have now reported an improved office utilization rate in this survey. The average office utilization rate in India was less than 25% during June-August 2021, with the pace of return to work varying across the country. CBRE expects the office utilization rate to fluctuate in tandem with sustained increase or decrease in infection rates. Further interactions with occupiers also suggest that office utilization rates in India would continue to pick up post December 2021 / Q1 2022. Moreover, an emerging global trend has been the growing importance of occupancy data and its role in real estate decision-making. Office utilization rate (average and peak) was ranked as the top occupancy metric that mattered the most to decision-makers in our latest global occupancy insights report.Additionally, organizations want to measure their occupancy metrics against their peers and know how others are handling the 'return to work' process.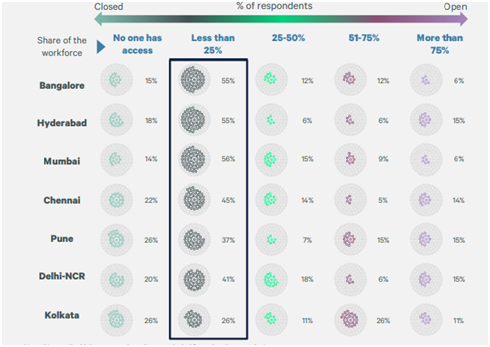 Digitizing FM services and space tracking imperative for return to work
Post the second wave, occupiers in India are striving to encourage employees to come back to offices with their safety and well-being at the forefront of their 'return to work' plans. Our survey revealed that three key areas that needed to be tech enhanced were admin, FM services and amenities, along with space tracking. With an objective to ensure high safety standards for employees, visitor management, digital booking systems and online attendance management were the top choices for techenhancement. Other key digitization initiatives to reinvigorate workplaces and heighten employee engagement included effective communication of critical updates, provision of transport and concierge services and tech-based handling of service requests. Space tracking has now become even more of a necessity, given that the workplace would need to be tailored for both office-going and hybrid workers. This sentiment was displayed by 83% of our global survey respondents, who said they track or would start to track space utilization in the future. Given its future potential, 51% of respondents across the globe are currently deploying technologies to track space utilization including sensors across their entire portfolio.