IFMA Global India 2022 Conference a Great Success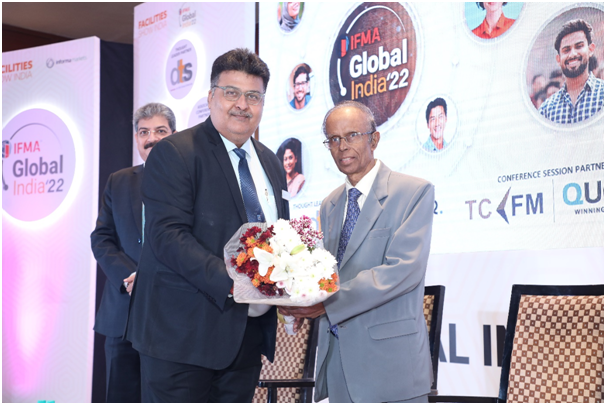 Dr A Ravindra , Retd Chief Secretary, Govt of Karnataka, Chairman, Centre for Sustainable Development being felicitated.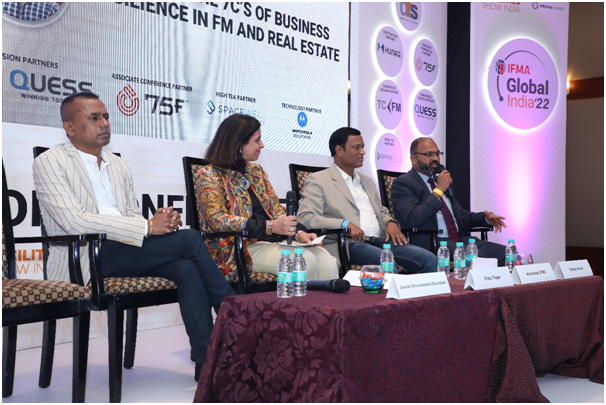 Panel Discussion: Future Workplace, Prioritising People over Place
The conference saw a galaxy of eminent speakers from leading organisations to include Charu Thapar, Executive Director - Property & Asset Management, APAC at JLL, Arul Kumar, Director - Workplace Services (REW) VMware,India, Jayaram Shivanasandra Govindaiah, India Head and Assistant Vice President - CRE and Facilities Management, Mashreq, Sanjeev Kumar, President at Dusters Total Solution Services Private Limited, Dr. Sridhar Raghavendra, Head of Facilities, Corporate Real Estate, Projects, EHS,GSOC & Mobility - APAC - GOTO (Former LogmeIn), Rajesh Pandit, Managing Director, Global Workplace Solutions & Property Management-CBRE, Jipu Jose James, Group Account Director -Work Dynamics, India, JLL, Srinivasan J, Regional Lead, Facilities (India & Philippines) , LSEG, Ashwini Walawalkar - Country Head – Technique Control Facility Management, Ms. Rupal Sinha, CEO Quess IFMS, Quess Corp Ltd, Mr Kishore Ramisetty, Vice President Intel Foundry Services & GM, Vertical Solutions & Services Group, Surendra Singh Bisht - Director Facilities & Infrastructure at PhonePe, CVL Narasimham, Senior Manager - Admin & Facilities, Mercedes Benz R&D, Gary Route - Function Head – Corporate Real Estate & Workplace Services Society General, Kumara S, Senior Director -Real Estate & Facilities India, Citrix R & D Private Ltd, Ramesh Saligrama, Vice President, Projects, Facilties, Bosch Limited among others.
Industry veterans emphasized the importance of people to retain organizational culture and drive business outcomes. The importance of people, process and property as being important to lead the change. Even as technology has intensified and IOT platforms are the future and AI will drive data, leadership strategies are changing in every organization and we are increasingly moving away from leadership of hierarchy to leadership of ideas and the key is for employees to be the best version of themselves. From a CXO sentiment, office is seen as driving engagement, innovation and collaboration. A place where you network with people from different departments. Augmentation of human knowledge and amplifying skills are key to business. Idea based disruption in workplace will drive positive disruptions.
The Covid period saw the FM industry being declared as essential services. FM workers were the warriors who worked from office throughout the covid period and did not have the option to work from home.
The Session on Game Changing Leadership Strategies saw experts discuss how the FM industry had new sets of challenges during the covid period. Assets and infrastructure were there to be maintained but people were not there. The role of FM was also transformed to one of confidence building and engagement to encourage employees to come back to offices. Employee engagement and employee experience were key factors to attract employees back to work. FM organisations had to train and upskill their work force to manage client workplaces and new hybrid workplace in terms of increased hygiene and use of technology.
Today organisations are still seized with the challenge of getting enough people to come back to offices and their workplaces. How do you become future ready? Leaders are not keen on buying services as much as buying outcomes. Businesses have become more risk aware rather than risk averse. They are concerned with risk of reputation, disaster management, IT Protocols. Facility managers are being asked how do you bring back the people. How do you give confidence and intent to employees to come back.
There is no one size that fits all and different organisations are engaged with different strategies to allow for the pull factor to work, depending on their customers or clients they service. 'As an employer you need predictability and as an employee you need flexibility.'
While hybrid workplaces and flexi timings are a given today to retain talent, we will in the next six to eight months see a move towards earlier patterns of working. Technology will be an important tool to gear up. An important area where facility managers would be required to work with businesses would be to achieve ESG goals. This as organisations and clients are in the journey of moving from carbon neutral to net zero. Sustainability should be viewed as long term investment and not as a short term goal.
Organisations are shedding office space to a third of their space but they are in the given space expected to deliver best what the employee wants.
Facility management was earlier perceived as a cost centre for the company but in reality is a revenue generator. Leveraging technology has enabled organizations understand employee behaviour, look at problem statements, equipment maintenance, give up old equipment and adopt new ways and technologies all of which allow for substantial savings to organisations, helping them reduce carbon footprint and other steps. Data can be an integral part for sustainability.
Speaking at the inaugural function, Dr A Ravindra, Retd Chief Secretary, Govt of Karnataka, Chairman, Centre for Sustainable Development emphasized that along with sustainability It is important for organisations to focus on ESG Goals and look after the internal and external environments. Gender Equality, Water and Sanitation, waste management are important issues that need to be dealt with and organisations need to understand their corporate responsibility.
As the FM industry is growing it would be good for the industry to develop a pool of mentors who can help industry professionals navigate through different challenges and guide them to take the necessary steps to achieve their goals.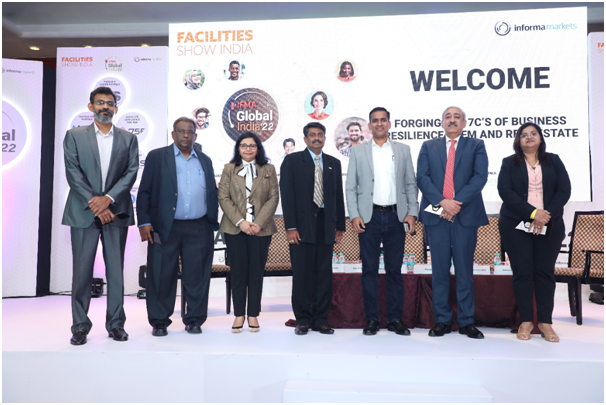 Panel Discussion : Game Changing Leadership Strategies
Industry leaders like Shoba Saji, Senior Vice President, DTSS shared that it was important for the FM industry to build a brand to attract talent. Since facility management is all about delivering value, "we need great talent and need to collectively create a blueprint to attract talent from across industries. The key is to brand the FM industry and the opportunities therein,"she observed.
The conference also saw great learnings from partner presentations on a whole host of areas from leveraging technology to address issues of job recruitment, skilled manpower to collision avoidance systems to allow for safe employee transport among other solutions.